RPI's Infor HCM Roadmapping Festival
join us in-person for Three Days to learn from our infor certified hcm experts!
Join us at RPI HQ in Baltimore, MD from Febuary 28 to March 2!
Learn about migrating Multi-Tenant, v11 Payroll, Open Enrollment, Life Events, Phased Performance, Occ Health, Qualifications, HCM Analytics, Automation and much more from our Infor HCM certified experts.
Plus, enjoy activities including trivia night, axe throwing, paint night, and more!
This is a limited seating event so make sure to grab your tickets while you can!
Company Rates are Available!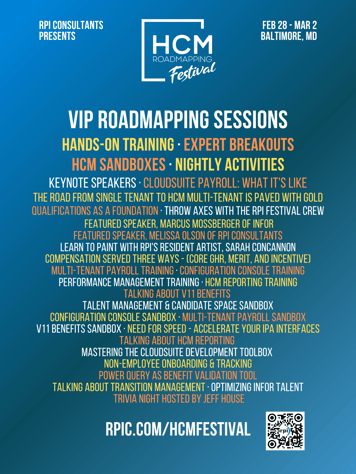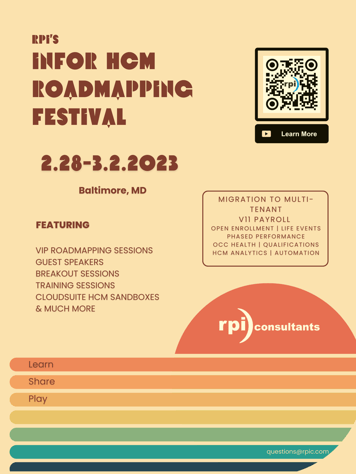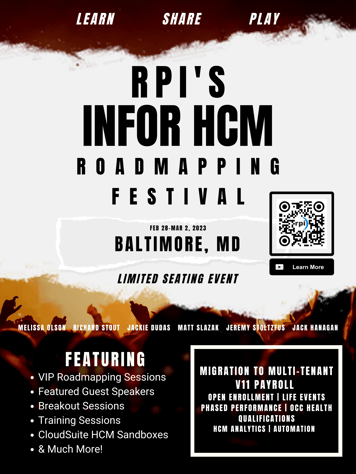 The Lineup
VIP Roadmapping Sessions
Collaborate with our Solution Architects to build a project roadmap personalized to your organization, including project overviews, budgetary estimates, and internal resource requirements.


Featured Speakers
Marcus Mossberger, Future of HCM, Infor
Melissa Olson, Director of Infor Solutions, RPI Consultants
More coming!

Hands-On Training
Multi-Tenant Payroll
Performance Management
Configuration Console
HCM Reporting

Breakout Sessions
CloudSuite Payroll - What it's like
The Road from Single Tenant GHR to Multi-Tenant is paved with Gold
Compensation Served Three Ways (Core GHR, Merit, and Incentive)
Qualifications as a Foundation
Talking About v11 Benefits
Need for Speed - Accelerate your IPA Interfaces
Talking About HCM Reporting
Mastering the CloudSuite Development Toolbox
Non-Employee Onboarding & Tracking
Change Management for Project Sponsors
Power Query as Benefit Validation Tool
Talking About Transition Management
Optimizing Infor Talent
And More...

CloudSuite HCM Sandboxes
Talent Management & Candidate Space
Configuration Console
Multi-Tenant Payroll
V11 Benefits

Activities
Trivia hosted by Jeff House
Painting Workshop
Axe Throwing
Soap Making

And Much More!
Trailer and Overview
Check out our trailer to get the lowdown on the HCM Festival with Melissa Olson:
What's Included in the Price of Admission?
Included in the price of admission is the full three days of the Infor HR Talent Roadmapping festival, lunch each day, and evening entertainment. Travel and hotel costs will not be included in the price of admission.
Who Can I Reach Out to if I Have Questions?
If you have any questions about RPI's HCM Roadmapping Festival, please send them to questions@rpic.com.
Cancellation Policy
Registration fees are non-refundable. If an attendee is unable to travel to Baltimore and join the class as scheduled, registration can be transferred to another employee under the same organization. If due to unforeseen events RPI must cancel the training, all registration fees will be refunded. There will be no credit for any travel expenses incurred.
Hotel
Marriott Waterfront hotel
We recommend staying at the Marriott Waterfront Hotel in Baltimore's Harbor East neighborhood. We have negotiated special rates for this event at this specific hotel.
Address: 700 Aliceanna Street, Baltimore, MD 21202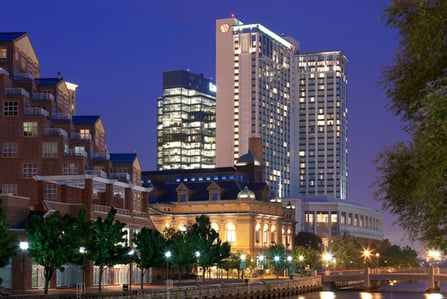 Travel
Airport, Airline, & Transportation
We recommend flying into BWI (Baltimore/Washington International Thurgood Marshall Airport). BWI is a Southwest Airlines hub so cheap flights can usually be found to Baltimore via Southwest.
The ride from BWI to the Marriott is about 20 minutes, and the ride from the hotel to RPI's Baltimore HQ is about 10 minutes. We recommend taking an Uber or Lyft from your hotel to the office.