Stretch Your ERP Functionality
Yoga is an intuitive, cloud-based platform that extends ERP functionality. From AP automation for FSM applications, to non-employee resource requests within HCM, the SaaS tool delivers end-to-end solutions that enrich, automate, and validate data.
At the heart of Yoga is innovative AI technology from Microsoft and OpenAI. Leveraging best-in-class machine learning, Yoga improves over time and strengthens workflows along the way by capturing business user feedback in its AI training models.
What makes Yoga unique is its hassle-free, all-inclusive support and maintenance. Because Yoga is cloud-based, it can be deployed without the need for IT infrastructure or support.
Built by consultants with over 20 years of experience designing and consulting on content automation solutions, Yoga helps you derive more value from your ERP. Here's how: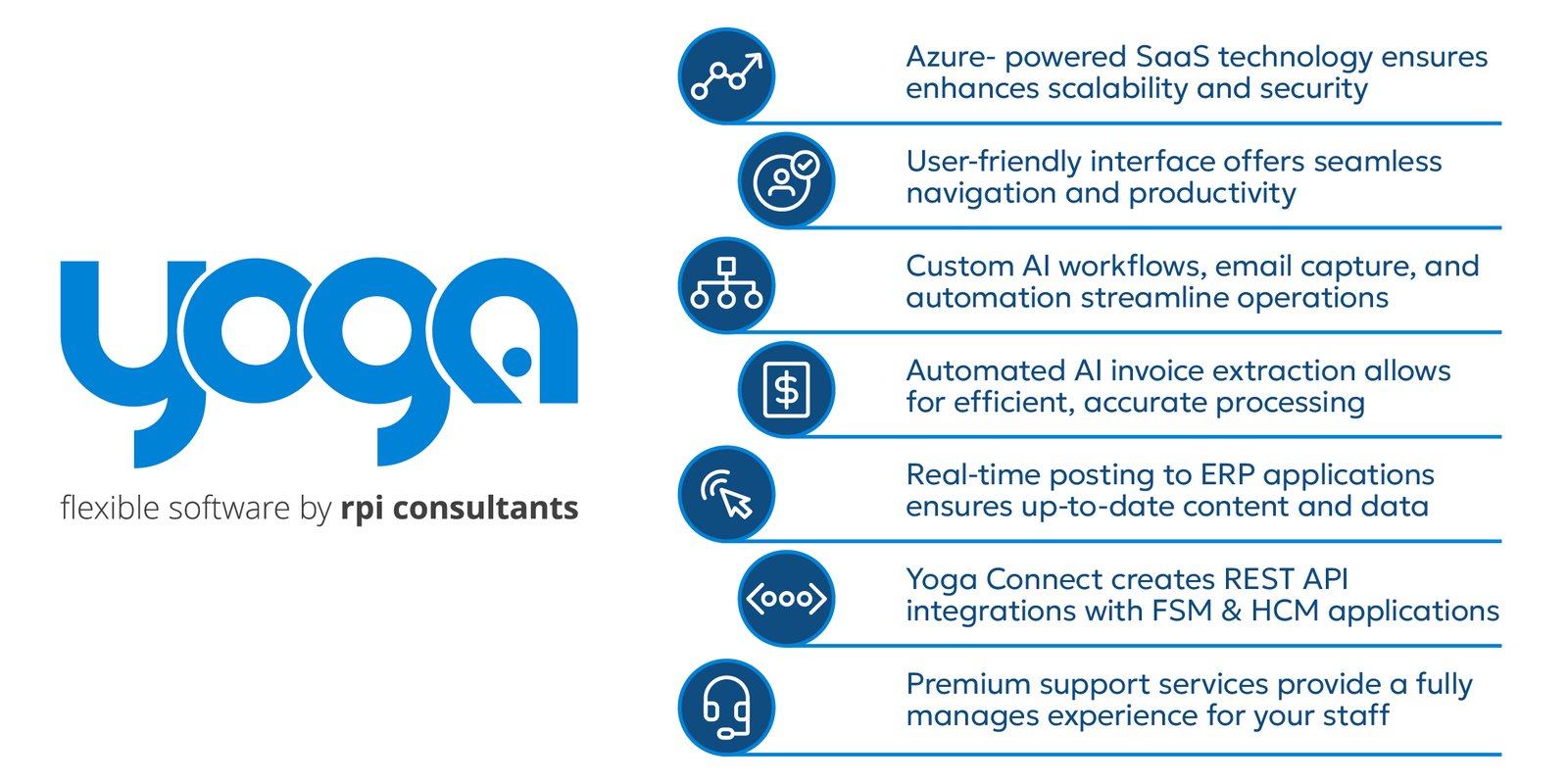 Yoga for FSM
Yoga provides AP managers and controllers with the tools they need to increase operational efficiency, create financial agility, and inform strategic decision-making.
Leveraging Microsoft Cognitive Services, Yoga streamlines operations by converting paper invoices into digital format and enabling seamless one-touch processes. With Yoga's intuitive dashboards and AI technology, stakeholders gain real-time insights, ensuring smooth AP processing and providing instant visibility into supplier liabilities.
Yoga for FSM key features:
Unrivaled AP automation and capture for greater accuracy and cost savings
Self-learning AI technology matches line-item pairing to purchase order data
Vendor e-invoicing ensures frictionless supplier invoice payment on time, every time
Yoga for HCM
Give HR directors and managers the tool they need to process vital employee data instantly. From non-employee resource requests to automated workflows for processing employee information, Yoga strengthens your human resource processes.
Yoga for HCM key features:
Automated workflow and process approvals ensure non-employee data is received promptly
Real-time image extraction and custom forms validate non-employee data entry in seconds
Intuitive, non-employee portal provides secure and reliable access for managing information within your organization
Yoga Connect
No matter what your ERP is, Yoga Connect establishes a user-friendly application interface for data platforms that typically don't have one. Using modern SaaS integration management practices and out-of-the box standardization, Yoga's architecture allows for easy customization and effective management.
Yoga Connect key features:
Easy-to-implement custom and out-of-the box REST APIs offer smooth integration between ERP and SaaS applications
Standardized integrations increase performance by streamlining content extraction and data transfer
Powerful interface management tools enhance integration performance and maintenance
Who is Yoga Intended For?
The Yoga platform allows business users to manage FSM and HCM data with the click of a button. If your organization falls into one or more of the following categories, Yoga could drastically improve business processes and help you save on recurring costs.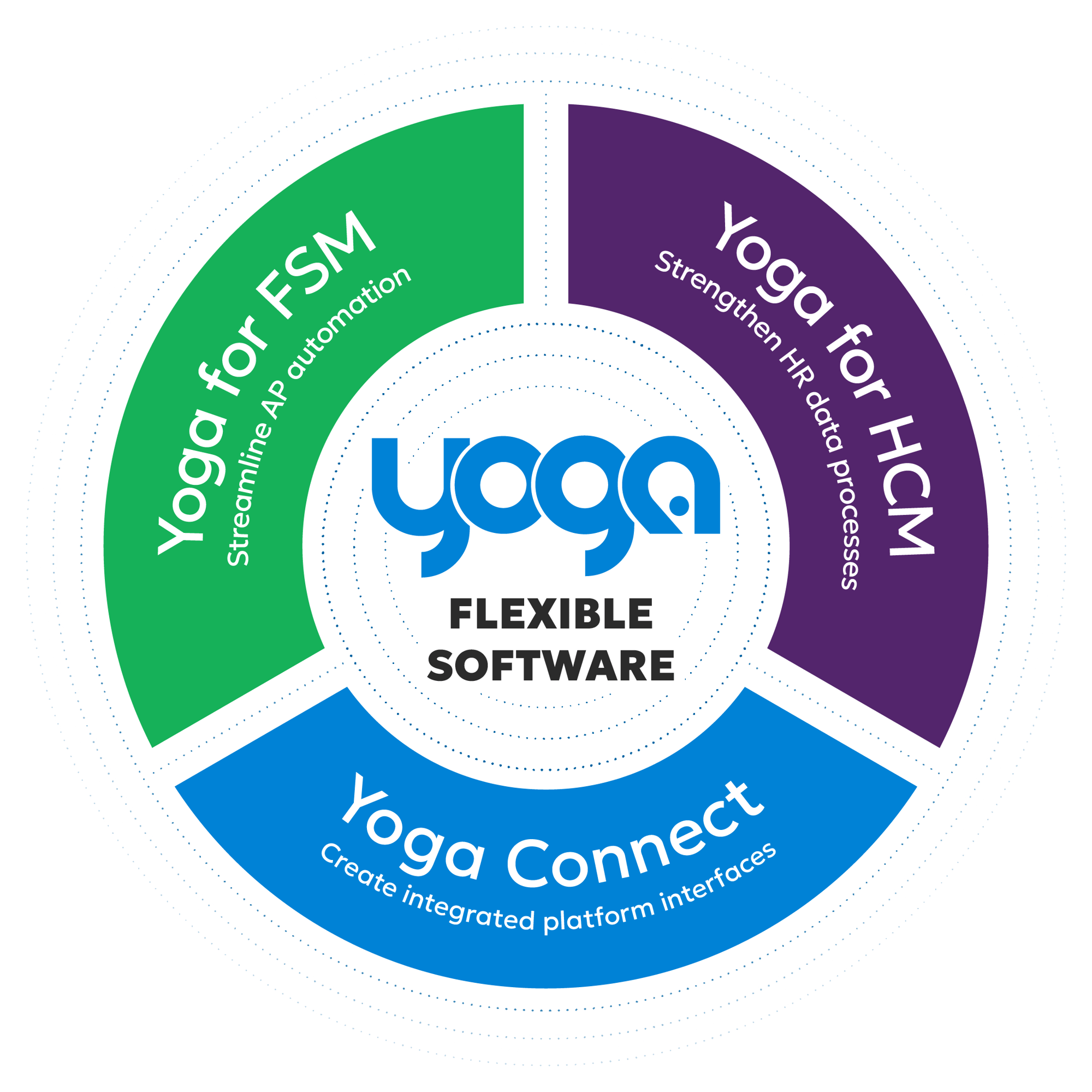 You have requirements to retain, route, or clean data prior to transferring it to the cloud
You need to collect data from external users, such as vendors or contractors, and require an easier system for interacting with them
Business objectives include converting physical content into virtual data i.e., a scanned image of an invoice, a form, a resume, or an e-mail attachment
Require modern AI technology to achieve greater efficiency in your business processes
Your ERP is moving to the cloud, but you still have content management and document or process automation software on-premise


Document Imaging & Storage Considerations
This webinar covers the entire spectrum of ECM software, from legacy systems to cloud-based solutions.
EDI & OCR Processing with Yoga Content
Learn more about how Yoga Content makes image generation easy without being tied to a singular OCR tool.